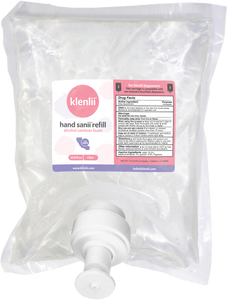 With nearly twice the use of gel dispensers, these foaming hand sanitizer refills really kick germs' butts... well at least 99.99% of them. Want your hands soft, but not sticky? Look no further! Our foam is made using premium ingredients with no extra junk by our expert chemists in Southern California.

Packed as 5 x 1,000mL bags per box

1,600+ pumps per 1,000 mL bag

ethyl alcohol

works with klenlii dispensers

Fragrance: light and crisp, yet discrete scent to leave your hands refreshed without fragrance-bombing the entire room.